Timeless and light Eau de Cologne is the ideal fragrance in spring and summer. It is always the right choice if you will not forgo to a fresh and sparkling scent to be wrapped in during the hottest months of the year. What makes our Eau de Cologne really special is its formula that, like all contemporary Eau de Cologne, gives an immediate invigorating sensation. That is the reason why Eau de Cologne is always stylish even if it was created more than three centuries ago.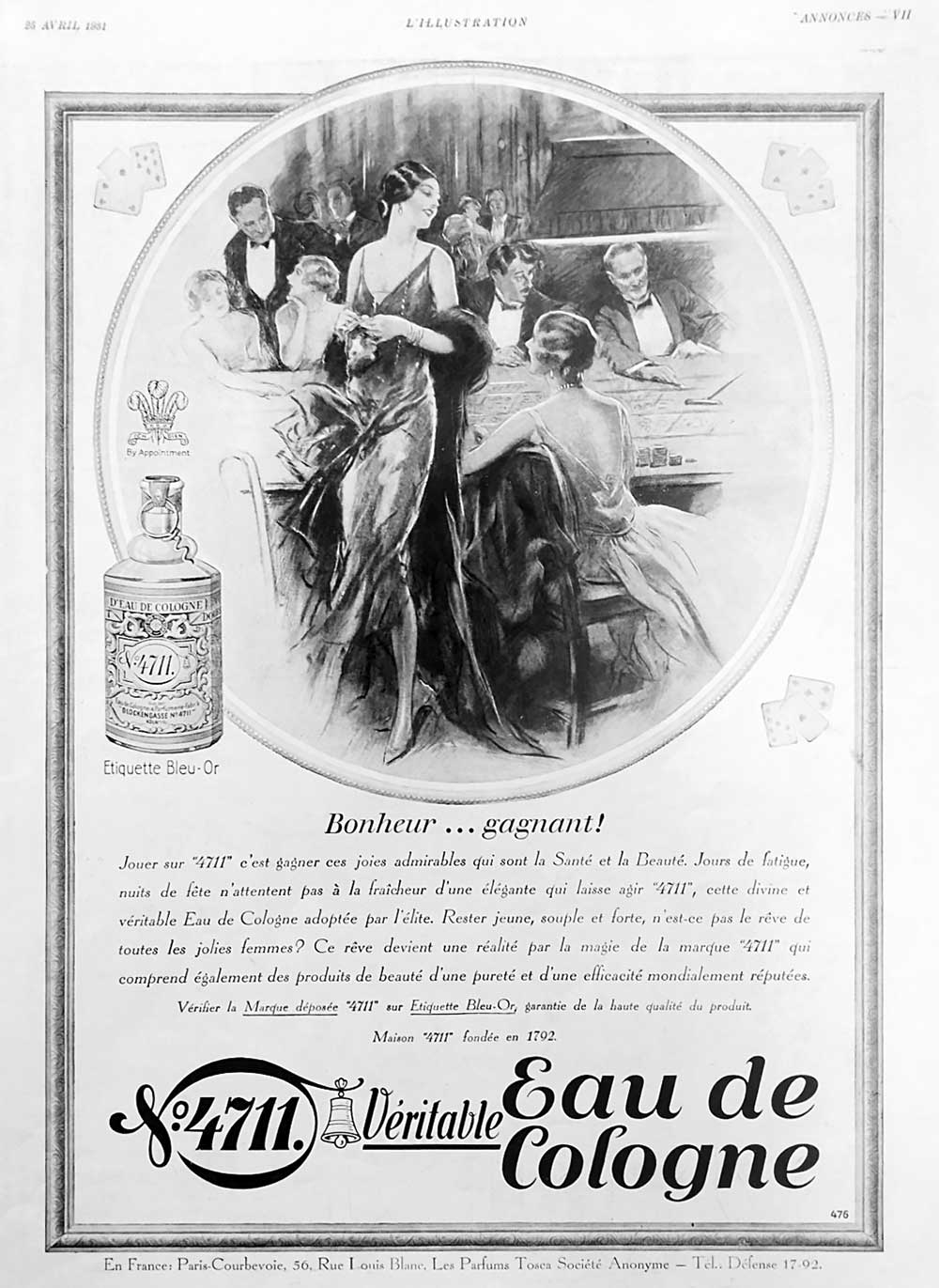 Eau de Cologne was crafted, indeed, at the end of the 15th century by some Italian noses. It was Giovanni Paolo Feminis who first developed the formula and named it "Aqua Mirabilis". He was a young Italian emigrated to the town of Cologne in Germany, where in 1696 he opened a distillery- herbalist's shop to sell his citrus based fragrance, created following an ancient receipt owned by monks. After the death of Giovanni Paolo Feminis, his assistant Giovanni Antonio Farina modified the formula of Aqua Mirabilis by using essential bergamot oil, lemon and orange notes together with lavender, rosemary, orange blossom and named the new fragrance Eau de Cologne. The original formula had soon an extraordinary success and became famous across Europe between 16th and 17thcentury. Aqua Mirabilis was soon appreciated by famous personalities such as Goethe, Napoleon, Voltaire and even Queen Victoria; Jean Maria Farina, Giovanni Antonio's grandson and heir, became Official Supplier of the Royal Family.
Despite many years have passed, this fragrance has still lots of aficionados in the entire world, both in its original formula and in the more up-to-date Eau de Cologne, which are refined variations on the same core. Contemporary Eau de Cologne combine tradition and innovation but they maintain unchanged the properties of the original formula although they may also propose different olfactory notes.
Eau de Cologne are fresh but all-day long lasting perfumes and, as their formula has a low percentage of alcohol and reduced concentration of fragrance, they can be applied both on the usual dots as neck/wrist and rubbed all over the body to get a gorgeously invigorating sensation. They are the ideal fragrances in the hot season, when our skin's pH changes and the usual Eau de Perfume may turn out to be too intense.
Due to the evolution in the market of the Niche perfumery, it is nowadays possible to choose among different miscellaneous Eau de Cologne, which can be used to satisfy everyone's taste about fragrances. In the same time Eau de Cologne are a possible alternative to classic Eau de Perfume because of their mild formula. Many Eau de Cologne use up-to-date and amazing olfactory notes, f.i. Officina delle Essenze Body and Clothes Eau de Cologne, which maintain the concentration of the classic formula but also cover other olfactory families.
Only to name a few: the sparkling Mediterranean fragrance of Fig; the soft and enchanting scent of Talcum which brings back our childhood; Osmanthus with its fruity and intense scent; Tunisian Neroli, an exotic fragrance enriched by Citrus and Bergamot from Calabria; Linen inspired by the fresh scent of the laundry laid under the sun; and again Musk with its Fern, aromatic wood and undergrowth. And many other declinations for your Eau de Cologne, created to give a pure and invigorating sensation to your body: the perfect choice for next summer.