Eau de cologne has the unique and evergreen allure of all the products that are timeless. Everyone likes eau de cologne in every season, especially in spring and summer when we are constantly looking for a restoring source of refreshment because of the hot weather.
WHAT IS EAU DE COLOGNE AND WHY WE DO LIKE IT SO MUCH
Eau de cologne are characterized by a fresh and light composition and are less long-lasting than traditional eau de parfum. The percentage of pure perfume contained in eau de cologne can vary from 3% to 5%. Because of their lightness Eau de cologne are the right choice for everyone who doesn't want to miss out on the emotional touch of a fragrance even during the hottest months of the year.
While the classic eau de parfum have a percentage of perfume between 15% and 20%, eau de cologne have a slightest presence of essential oils, therefore they can be used above all in summer. In fact during this season the pH of our skin changes and it is more sensible to long-lasting perfumes which become too much intense when there is a high humidity level in the air. By using eau de cologne this is not going to happen, thanks to the composition of the fragrance your skin can better transpire and you will experience immediately an invigorating sensation.
The mild power of eau de cologne will help you to stay fresh even during the most scorching days. Eau de cologne have a plumed consistency which follows you during the entire day and you can freshen it by vaporizing with a simple touch any time you want.
The most diffused olfactory families for eau de cologne are the flowery and the citrus ones, but like all the evergreen classics even eau de cologne can surprise you with original bouquets especially in the niche perfumery segment.
Musk eau de cologne is a recall of all the typical freshness of the nice season while Fig eau de cologne is as sweet and pleasant as the fruit of the same tree. It is a gentle caress which you can't forget. And again Talcum eau de cologne is a mild and embracing breath which evaporates in all its intensity.
Eau de cologne has a lot of nuances which originated from the introduction of original and sometimes innovative bouquets. These characteristics have contributed to enhance the allure of this product which is beloved by all the artisanal Master Perfumers that have renewed it and proposed it with new ideas every time.
EAU DE COLOGNE IN THE HISTORY
Eau de cologne have been associated a lot of times with men, especially if they were dandy and elegance lover for excellence. But the diffusion of eau de cologne, as well as of eau de parfum, it is all thanks to women which made it a distinguishing feature in the eighteen-century Europe.
While eau de parfum was already considered as a symbol of sensuality, eau de cologne gained popularity thanks to its light composition and therefore it was showed off during the high-society events in the hottest periods of the year. In France the use of eau de cologne was something which distinguished the nobles.
The noblewomen of that period enriched their toiletries with the distilled and perfumed eau, later known as eau de cologne and a lot of people became real fragrance lovers. Among them we remember Napoleon and Queen Victoria, who dictated the trends of that epoch which became real and pure life style.
Over time fragrances have evolved sometimes also with surprises and by following the current fashion. From the original formula which was created in Cologne by the young Italian Giovanni Paolo Feminis many others derivated. One of them was Acqua Mirabilis that was developed by Feminis in his distillery- herbalist's shop in Germany. The distilled water got enriched by the notes of Lavander, Iris, Magnolia and Rose, while Bergamot oil was always a constant ingredient to create that sweet and spiced embrace which is full of emotions.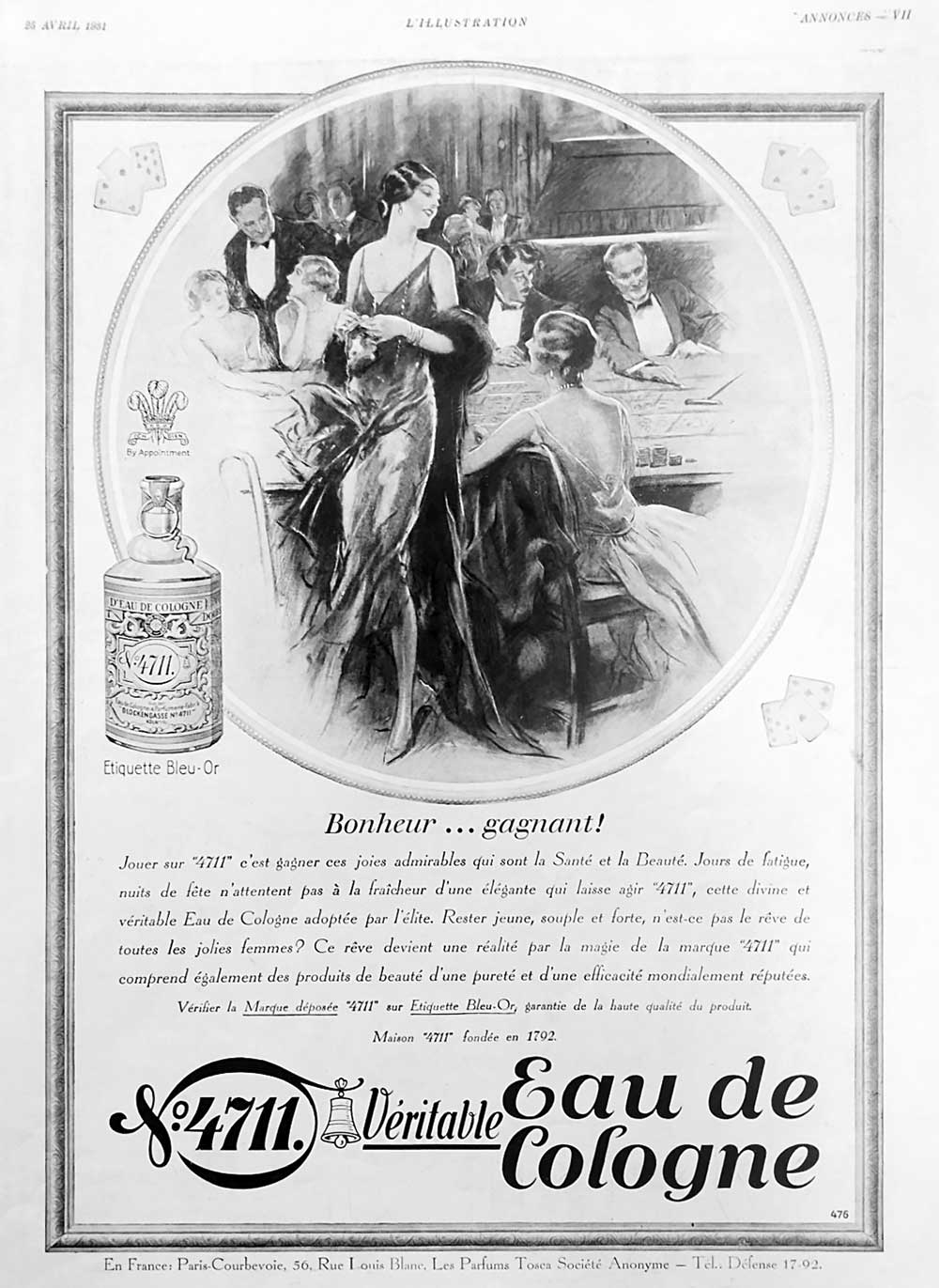 HOW TO USE EAU DE COLOGNE
As eau de cologne have less persistence than eau de parfum you can use them several times a day. That's the reason why eau de cologne are often sold in bigger size than eau de parfum as for example in the 200 ml size. The intense scented trail of eau de parfum is substituted by the pleasant and milder fragrance of eau de cologne.
If you want to obtain a long-lasting action of Eau de cologne as an alternative to vaporize it you can apply it with your fingertips on the warmest parts of your body as behind you ears, on your neck and on your wrists. And what about a vaporizing bath of eau de cologne after a restoring shower? It's a sensation of pure wellbeing, freshness and delight. Just a touch of eau de cologne and you will experiment the absolute pleasure.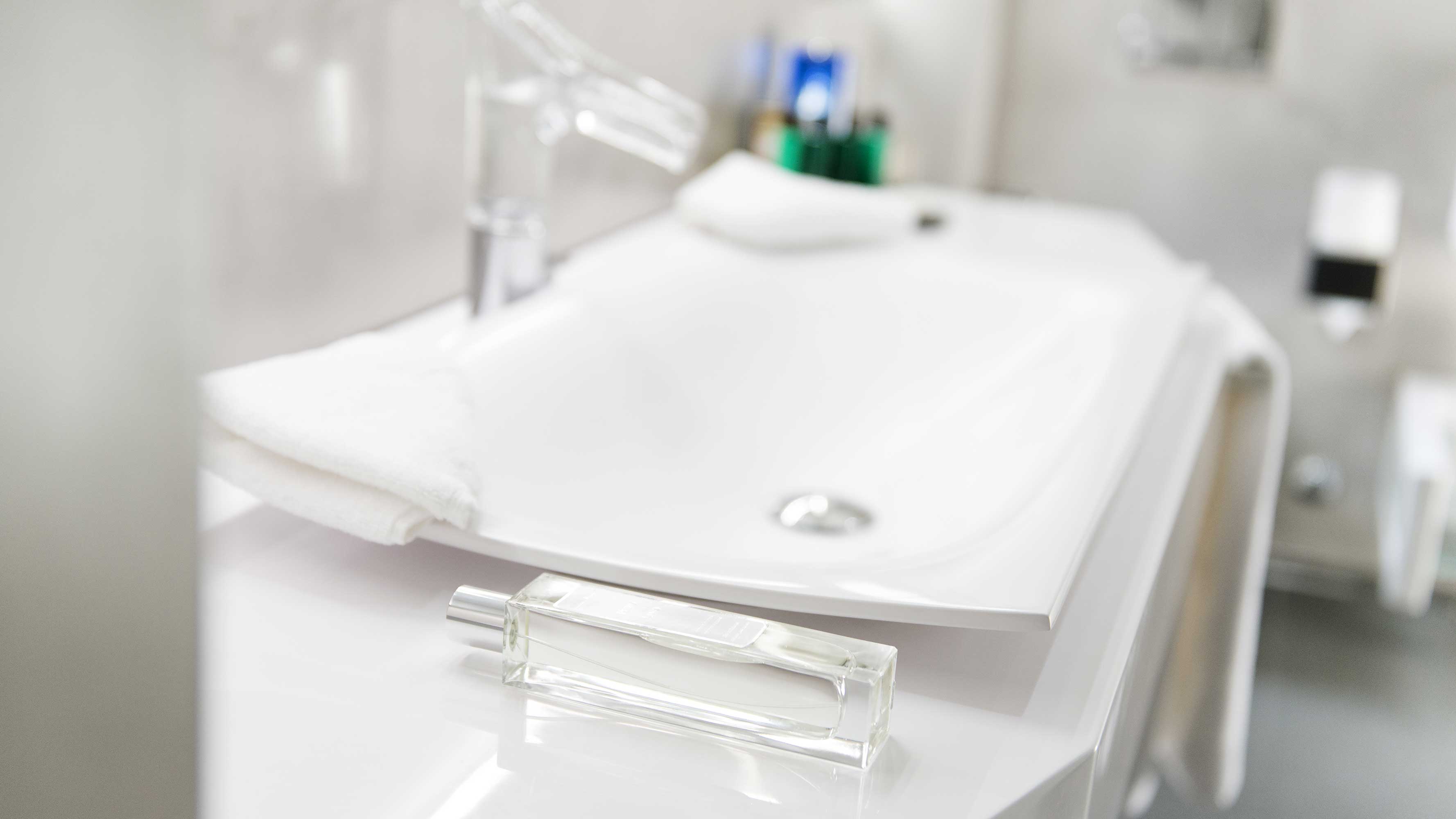 If you like the effects of eau de cologne on your skin, you can extend its benefits by vaporizing it also on your clothes. As a matter of fact eau de cologne leaves a beautiful trail on your clothes without making them heavier.
A little touch is enough to refresh your linen or to lengthen the sensation of wellbeing which eau de cologne gives to you. Eau de cologne is perfect to scent your sheets with notes that renew their freshness or for your underwear and your linen. It's a real pleasure to wrap oneself up in a scented towel just after a restoring bath and immerse yourself in your favorite fragrance.
In this way you will never miss out on the evocative power of eau de cologne. Each fragrance is a chemistry of essential oils and scented notes which create olfactory nuances to live in and become unforgettable.
Vaporize eau de cologne on your clothes is like immersing yourself in a cloud of freshness and energy, it's like wrapping yourself in a bubble of lightness.
MUST HAVE FOR SPRING AND SUMMER
Eau de cologne is an essential accessory especially in spring and summer. Its lightness is the same of those clothes we like to show off especially when we are on holiday: they are so weightless that we feel good and we are ready to conquer. This is the real essence of this product, its capacity of being on our body without making our skin heavier. Eau de cologne caresses us with its mild touch as many times as we want to.