HOME REED DIFFUSERS
Home reed diffusers are the ideal choice to decorate your rooms
Home reed diffusers are the ideal choice to decorate your rooms for the pleasure of your eyes and your nose. Original glass bottles, which are designed and made in Italy, are the ideal delicate and elegant accessories to be set on the table in the sitting room or on a dresser in the bedroom or on a shelf in the bathroom.

DISCOVER EACH SPACE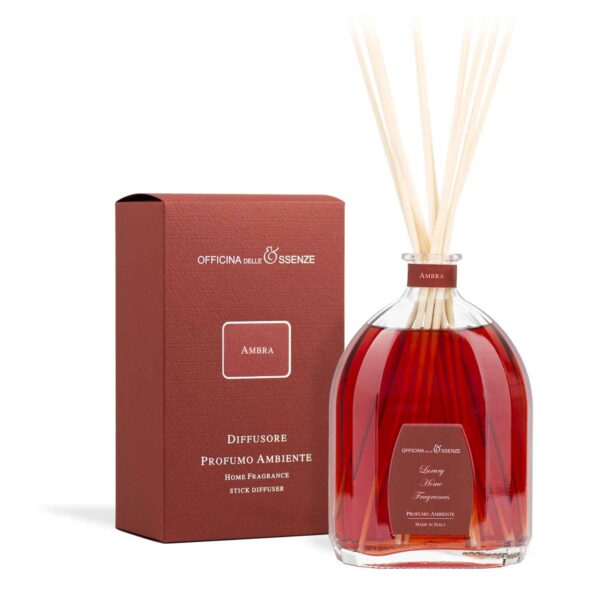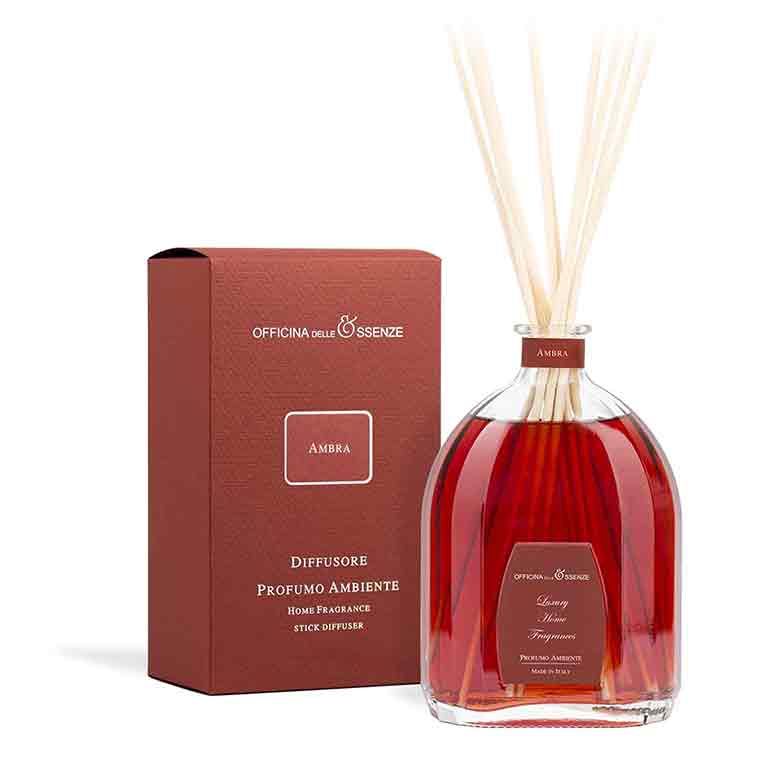 This fragrance is the warm and seductive touch of the most traditional among all the oriental notes. Amber is a precious and exciting perfume which gives you sensations of charming sweetness, intense well-being and vivid sexy dreams. An authentic aphrodisiac potion, which is red as the passion of lips looking to the sunset.
Amber is the ideal fragrance to scent living areas and dining rooms. You can relax among cupboards, stoves and bookshelves. It's a fragrance to enjoy while sitting on the sofa and watching TV or while chatting with friends in the sitting room: you will be immersed in an absolute well-being.
Home fragrance diffusers enhance your living space with a personal touch
Through the wooden reeds the perfumed notes evaporate and decorate your home with a pleasant olfactory atmosphere. They are a constant presence made of citrus and mild fruity bouquets: artisanal fragrances that fill the air with sweet sensations hour after hour.
The fragrance gives off gradually and constantly thanks to the reeds made of Rattan wood. Through the essence and the wood the mild and natural scent does not require electricity or particular care but it spreads out in the air independently. A precious furnishing accessory that you can show with pride, because it's the outcome of all the typical Made in Italy know how which is a perfect synergy between creativity and craftsmanship.
It's exciting although very easy to choose the ideal fragrance for the location you wish to decorate. On our web site you can browse through the descriptions of all our fragrances with the exclusive advices of their creator. Moreover you will find some useful suggestions on where to place each fragrance, for instance domestic environments or professional premises, bathrooms or dining rooms. The most curious customers will find out their favorite mood by tasting the different fragrances directly at one of the official retailers by Officina delle Essenze.
Home reed diffusers personalize your home with the elegant transparency of the glass
The essence of a room is contained in its perfume. Thanks to our sense of smell we can feel the personality, the intimate character and the secret potentialities of a location. And all these feelings are created through the warm and sensual embrace of an oriental note, or the fresh wellbeing of a citrus fragrance or the intense relax diffused by a sweet bouquet.
Different nuances that color each location and give new relevance to the spaces we live in, while we are looking for an absolute comfort.