Room spray fragrances have the magic power to create from nowhere a world full of intense emotions. The pleasure to live in your space thanks to small steps like nebulising your favourite fragrance in the air. There are landscapes, journeys and memories, feelings that have been captured in a glass bottle and in a few seconds all of them will decorate your room with a cloud of perfume.
Room sprays are perfect to decorate large sized rooms and big areas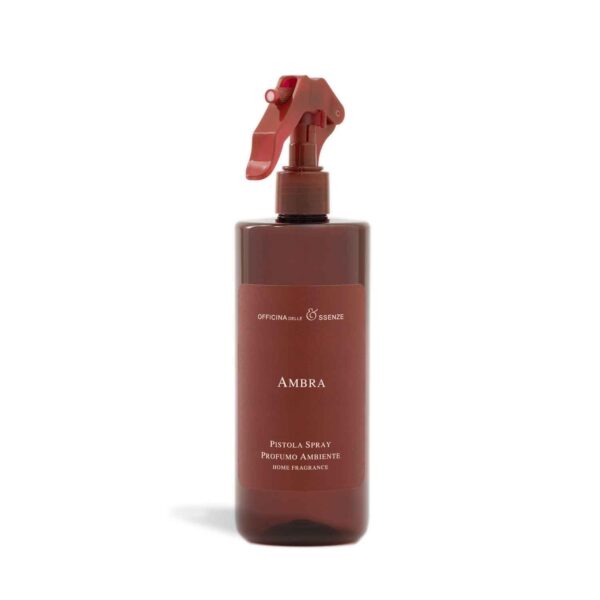 This fragrance is the warm and seductive touch of the most traditional among all the oriental notes. Ambra is a precious and exciting perfume which gives you sensations of charming sweetness, intense well-being and vivid sexy dreams. An authentic aphrodisiac potion, which is red as the passion of lips looking to the sunset.
Ambra perfume gun has a more concentrated and intense composition therefore it's the ideal product in order to scent wide spaces with an instant effect. The perfume gun gives the maximum freedom in vaporizing the product. Basing on your demands you can choose freely and with a simple action the intensity, the regularity and the place to spray the fragrance.
As compared to the luxurious glass diffusers the perfume guns have a more concentrated and powerful fragrance and with the special trigger system you can have the maximum intensity without any waste for a quick and immediate effect.
Perfume guns are perfect to decorate spacious locations, big areas and large sized rooms: a wide sitting room, an open space office, a showroom or a hallway of a shopping mall. Try a simple touch of the perfume gun in your meeting room before the clients arrive, and you will have a collaborative and brainstorming atmosphere. Perfume rapidly your shop to create the right olfactory atmosphere to encourage the buying.
From once up to several times a day, depending on the area you want to perfume and on your taste and needs
The magic of the room sprays is the freedom of use. You can decide how to utilize the fragrance by yourself, in fact you can modulate the power and the intensity of the spray and you can direct the spray toward a specific part of the space. Then you can also decide how many times you want to vaporize, from once up to several times a day, depending on the area you want to perfume and on your taste and needs.
The variety of fragrances available in the collection of perfume guns by Officina delle Essenze gives you a great choice of perfumes for any particular situation. Fresh and sparkling fragrances, or hot and crispy or fruity fragrances to evocate oriental paradises or dreamy Mediterranean tours.