ROOM SPRAYS
Perfume room sprays are made for spacious areas
A room spray has a magic power to create a world full of intense emotions out of nothing. Dive into the pleasure of living your own space by making small actions such as spraying your favorite fragrance in the air. Picturesque views, fruits, trips, memories and feelings that a moment before have been enclosed in a flask and now decorate your space with a cloud of fragrance.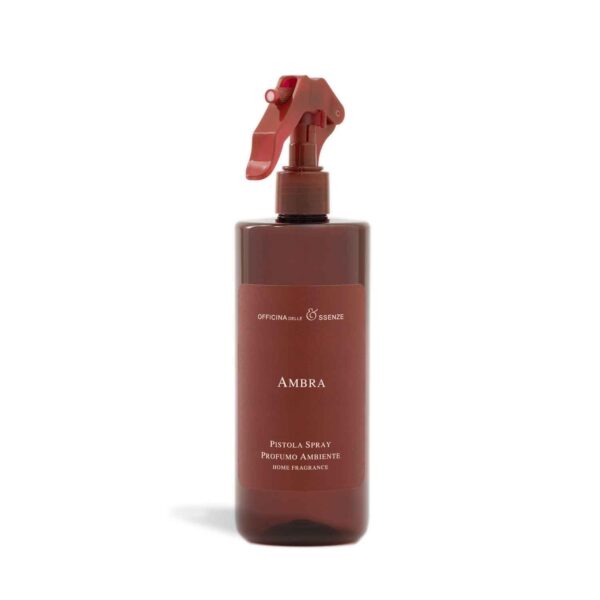 This fragrance is the warm and seductive touch of the most traditional among all the oriental notes. Amber is a precious and exciting perfume which gives you sensations of charming sweetness, intense well-being and vivid sexy dreams. An authentic aphrodisiac potion, which is red as the passion of lips looking to the sunset.
Amber, known as Ambra, room spray has a more concentrated and intense composition therefore it's the ideal product in order to scent wide spaces with an instant effect. The room spray gives the maximum freedom in vaporizing the product. Basing on your demands you can choose freely and with a simple action the intensity, the regularity and the place to spray the fragrance.
The beauty of a room spray is flexibility. You can use it at any time!
Compared to elegant home diffusers, perfume guns are characterised by a more concentrated and robust fragrance which, combined with a special trigger technology, allows to reach the maximum intensity with a minimum waste for a fast result and an immediate effect.
FREQUENTLY ASKED QUESTIONS
Why to choose a room spray?
The beauty of any room spray is its flexibility. You can manage your fragrance independently regulating the output and intensity of a spray as well as the direction towards a specific area. Besides, you can choose how often to use a spray starting from one up to several times a day depending on your space, personal taste and needs.
Spray the selected area pointing the nozzle up; avoid spritzing fabrics, walls and pieces of furniture. Afterwards, it is sufficient to repeat the same operation depending on the level of intensity you wish to reach.
What is the best time for a room spray?
The room spray is made to decorate spacious areas, vast surfaces and large premises: inside a spacious living room, an open space at the office, a showroom or a lobby of a shopping center. A simple touch in a meeting room before your clients arrive will encourage collaboration and sharing of ideas. A quick spritz in a shop will recreate the right atmosphere and encourage sales thanks to an olfactory experience.
Why to avoid spraying fabrics?
Due to a high concentration of essential oils in the perfume essential to fragrance large spaces, the perfume guns must not be used directly on fabrics, walls and pieces of furniture. There is a risk of staining indelibly abovementioned surfaces. If you are looking for a fragrance to spray on fabrics, we suggest trying our eau de cologne.
How long does a perfume last?
The room spray assures an immediate and constant smell for some hours. The result can grow exponentially up to 24 hours after applying the product on a daily basis for some weeks.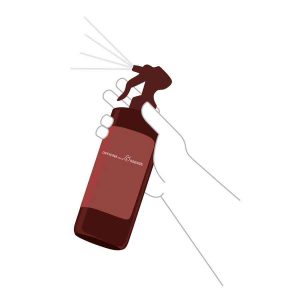 What is the difference between a reed diffuser and a room spray?
Compared with home reed diffusers a room spray releases a greater amount of perfume in the air. It also allows to manage intensity of the sprayed fragrance.
From one to several spritzes a day depending on the selected area, personal taste and needs
The variety of essences available in the Officina delle Essenze room spray collection allows you to choose the ideal perfume for each space. Discover sparkling, fresh, sweat, pungent, warm or fruity scents to evoke Eastern paradise and marvelous Mediterranean places.