EAU DE COLOGNE
Eau de cologne is a hymn to cheerfulness, the feeling which accompanies us during our summers. As an undisputed protagonist of the summer season, eau de cologne gives an immediate freshness thanks to its light consistency. It's the luxurious gift for those who don't want to miss out on their favourite fragrance even during the hottest months of the year.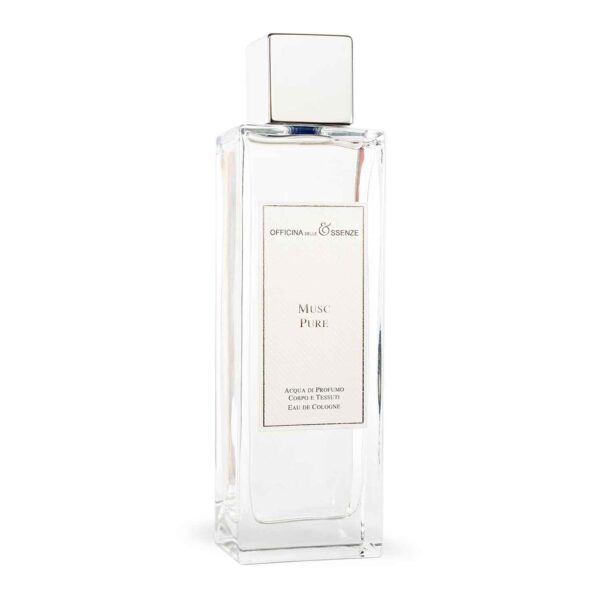 A barefoot journey through a forest of centuries-old trees covered with leaves. Do you smell the understory notes? Musc Pure is an incredibly fresh bouquet of ferny and woody aromas. It brings together the original strong nature of Oak Musk and the gentle softness of White Musk. A determined Eau de Parfum that holds the unique charm of nature.
Eau de Cologne is a fresh and light fragrance, a timeless classic in the world of perfumery. The difference between Eau de Parfum and Eau de Cologne lies in the lower concentration of perfume. This results in a greater lightness and freshness of the fragrance, at the expense of intensity or persistence.
These characteristics make colognes a perfect accessory for those who love to wear a fragrance in spring or summer, immediately after a shower, or to scent fabrics.
HOW TO USE EAU DE COLOGNE
As Eau de Cologne have less persistence than Eau de Parfum you can use them several times a day. That's the reason why Eau de Cologne are often sold in bigger size than Eau de Parfum as for example in the 200 ml size. The intense scented trail of eau de parfum is substituted by the pleasant and milder fragrance of Eau de Cologne.
If you want to obtain a long-lasting action of Eau de Cologne as an alternative to vaporize it you can apply it with your fingertips on the warmest parts of your body as behind you ears, on your neck and on your wrists. And what about a vaporizing bath of eau de cologne after a restoring shower? It's a sensation of pure wellbeing, freshness and delight. Just a touch of Eau de Cologne and you will experiment the absolute pleasure.