Aromachology binds our memories to our daily well-being thanks to the use of perfumes and essences. Through our olfaction, all the smells we get in touch are registered and memorized in a special area of our mind which is called olfactory memory.
When we get in touch with a particular scent, the receptors of our brain set up to get hold of those memories we believed had got lost. Perfumes technically have an effect on our limbic system by stimulating the production of substances like adrenalin and endorphin: that's the way they influence our emotions.
If we think about the magic memories of our childhood olfactory memory begins to work in our nose since the earliest years of our lives. As a matter of fact, it is no coincidence that perfumes tickle exactly this type of positive emotions and create an immediate sensation of well-being.
Thanks to the evocative power of a fragrance, we can affirm that aromachology is an essential issue in the world of perfumes and, at the same time, the ideal tool to realize a natural benefit for us at once.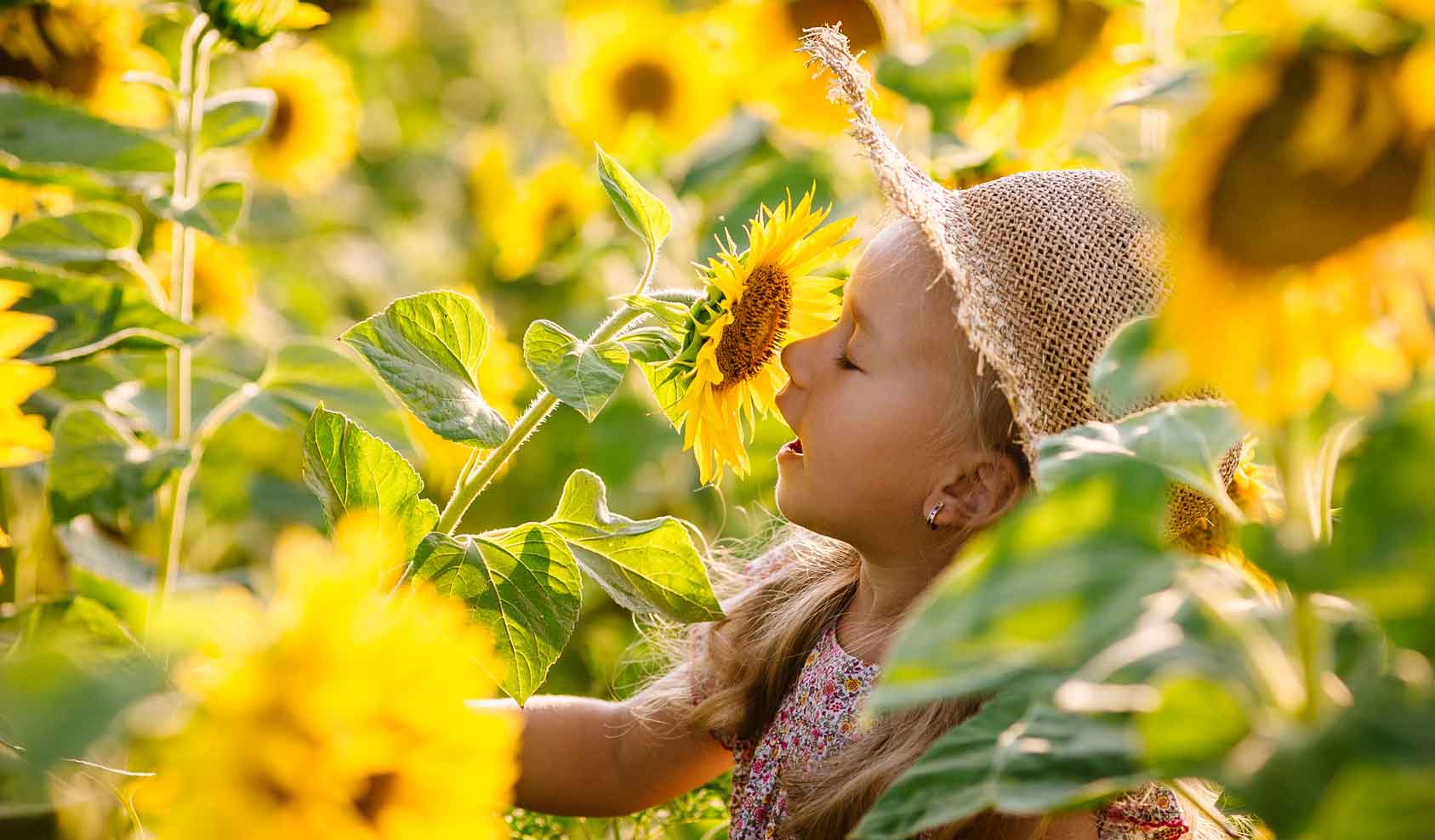 AROMACHOLOGY AND WELL-BEING
If it's true that thanks to aromachology we can enjoy the healthy subconscious effect of the scents on our mind then it becomes fundamental to research scented notes that can evoke the sensations of well-being that we have lived through the memories impressed in our olfactory memory.
For this reason, home fragrance diffusers are the perfect ally to transform your home into a place where you can take care of yourselves and feel good. Your home will become a place where the effects of aromachology are immediately effective in your mood and state of mind.
Home fragrances are not only a decorating accessory but a tool that helps us to feel better through the diffusion of perfumed notes in the air.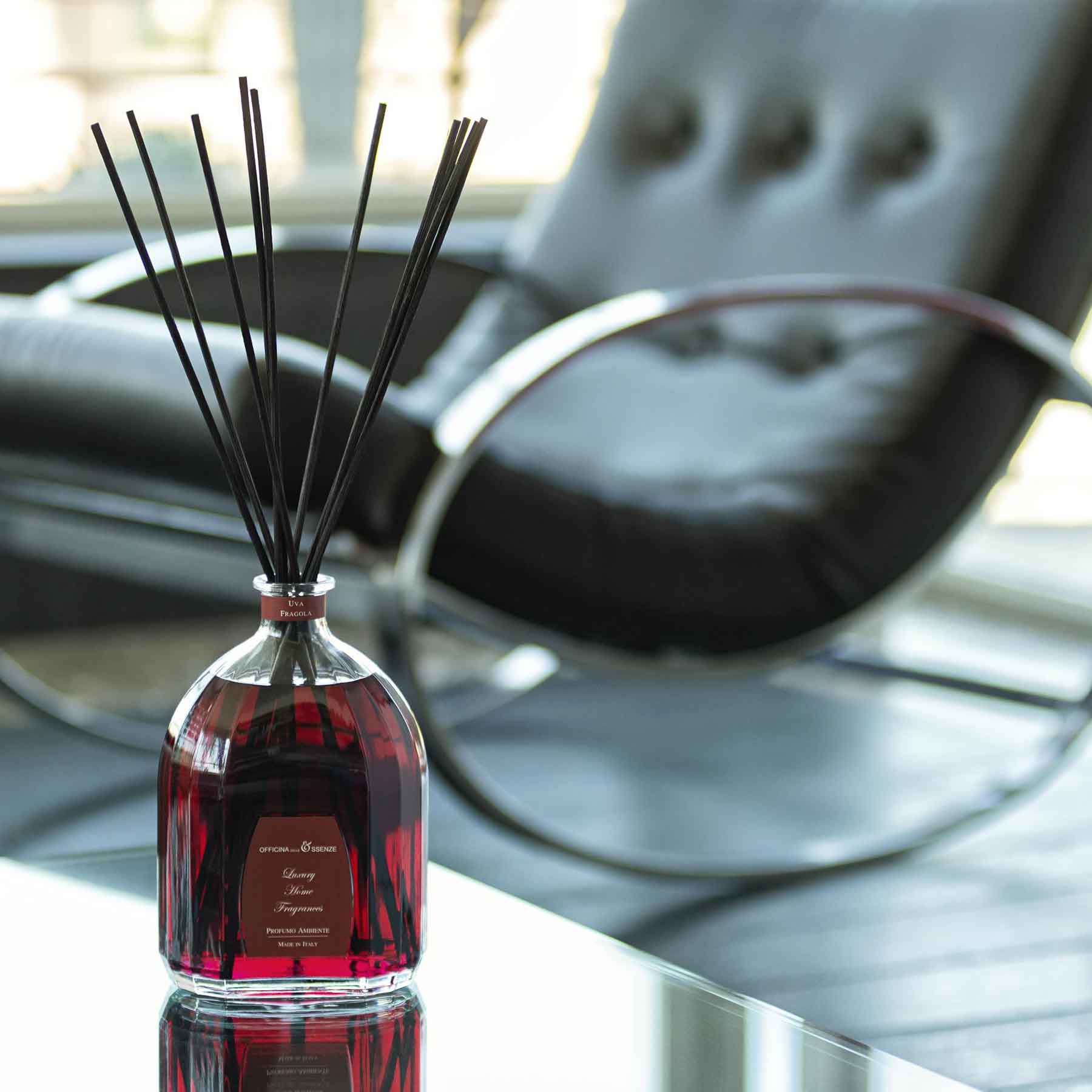 Aromachology is a very old practice which some historical sources mentioned as it was in use since Egyptian times. To create great quality essences the use of essential oils is fundamental as well as the use of perfumes.
Through aromachology, it's possible to find a remedy to stress as well as to a persistent sensation of weariness just to achieve a condition of pure relax. You can loosen the knots of a long working day or relieve the stress of everyday life.
Relaxing perfumes are the ones which derive from essential oils as Sweet Orange and Cinnamon because they have a healthy influence on our mood, or from Rosewood, which induces sleep by helping the production of serotonin.
The perfumed sensations from this kind of fragrances subconsciously recall memories in our distant past, all the ones related to our childhood, therefore they soothe bad thoughts.
ENVELOPING AND PAMPERING PERFUMES
Enveloping perfumes are the ones that embrace and pamper us. These fragrances are like a blanket that envelopes and gives protection to us.
Essential oils caress us and envelope us with their healthy persistence. These are exclusive aromas which are also fragrant, hot and have the power to induce serenity. That's what we call a real well-being of the senses.
The same sensation of protection and intimate warmth are represented by the perfumed notes of this kind of fragrances: most of them are composed by amber, aromatic woody notes as Patchouly essential oil or musky notes as Oak Musk.
Energy is the main sensation during the good seasons when we feel full of vitality and think as a go-getter. Therefore the fragrances which have this vitality are characterized by the natural elements of the hottest season, as the typical citrus notes from our Mediterranean Sea.
Essential oils of Lemon, Tangerine and Caribbean Lime are always the first choice, a natural remedy to find the right energy and concentration. On the other hand, perfumed notes of Liquorice and Mint infuse an energetic and exciting freshness to our soul.
THERE IS NO WELL-BEING WITHOUT QUALITY
In the segment of artistic perfumery each scented composition emphasizes the healthy properties of the essential oils it contains thanks to these essential components:
harmony of two unique notes who create an original ensemble;
use of high- quality raw materials to have as a final result an Eau de Parfum for your home.
Due to the careful work of the master perfumer and to his knowledge of the healthy proprieties of the essences, it will be always easier to choose the right fragrance to use. The power of fragrances is unlimited and it's a pity not to benefit from it.
It's enough to have a small amount of time to dedicate to oneself and a hint of olfactory design to breathe the correct air in your home or in your working place.
HOW TO CREATE THE IDEAL ATMOSPHERE
A small piece of domestic heaven where we can touch the more intimate part of ourselves; a place where we can make up with the world or dedicate ourselves to our passions. Let's destine a room in our home to aromachology, a piece of heaven in paradise, if you already decorate each room with the appropriate fragrance.
The bathroom is one of the favourite places for aromachology, a relaxing retreat where you can loosen your thoughts and immerse yourselves in a relaxing bath. Sweet relaxing notes of Vanilla or enveloping notes of Musk fill in the bathroom while you dedicate yourselves to the purifying ritual of the shower.
If you start with this image it's essential to choose the right fragrance to perceive the effect of aromachology. The search of the correct olfactory space starts exactly from the knowledge of the fragrances and the olfactory families.
A house full of energy and vitality has to be characterized by citrus notes with the typical flavour of our Mediterranean Sea. Let's start an authentic voyage into the savage Mediterranean maquis to reconcile our mood with the essential elements of our coasts and seas.
If you desire to feel those sensations of lightness and peacefulness which are typical of the summer afternoons of your childhood, there's nothing better than a talc or vanilla note. An ethereal sweetness will help us to relax and to reconcile us with the world.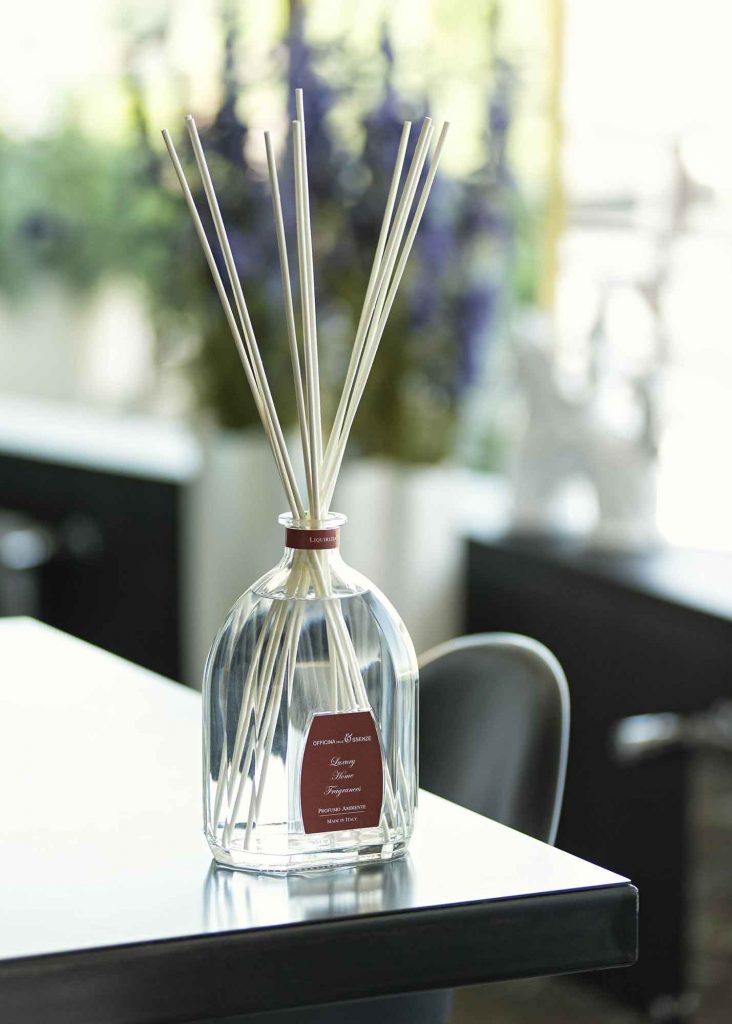 REED DIFFUSERS AND ESSENTIAL OILS
If you already love home reed diffusers, aromachology will be just another chance to find the right fragrance for you, the one that with its extraordinary power will help you to relax or to feel more pampered.
Imagine you are on the sofa or are relaxing with a hot bath and you feel pampered by your favourite fragrance. Essential oils will diffuse in the room and create that immediate sensation of happiness which envelopes and rocks you in an untouchable way.
The evocative power of perfumes gives us infinite possibilities to get in touch with our emotions. Choosing a home reed diffuser is much more than decorate your home with a furnishing accessory, it's more like getting in touch with the most intimate part of ourselves.